Wait... THAT doesn't sound like us. Yes, today we got to return to filming (thanks so much to our cool Kickstarter pals), and we did it on an actual set this time. Well, I say set, but it was really a location. The beautiful 1828 log house belonging to Jon and Maxine Yagla on the grounds of Eagle's Nest, established 1647. As I mentioned in
a previous entry
, Sean and I went to scout it out, and we liked it for Munchkin governor Boq's house. Today we finally got to film there with Wesley and Crystal Edge, their adorable daughter Emily, and our old friends Glenda and Wiley.
Before I get into that, though, I have another one of our last minute improv stories to tell. We found out on Thursday night that there was a hiccup in our costuming situation. Some of the fabric for Crystal's dress didn't work out right, and because of this the dress was not finished. This being a family film, the naked wife wasn't an option. Sean and I were scrambling for a solution, and Sean had an idea that saved us. We dug out the shift from the Good Witch of the North's costume, bought a box of Rit dye, and Sean managed the dying process while I examined the inside of my eyelids.
That hurdle surmounted, we were good to go for a 10:00 start this morning. I woke up early and cooked a couple of fried eggs. I ate those, and then I cooked a couple more for the movie, to go with the sausage (ye olde Jimmy Dean) and tomato we'd purchased yesterday. Sean and I left for the Yagla's an hour early to rearrange the furniture, set up the studio lights, and lay out a convincing spread.
Convincing, sure. Appetizing..? Ask again later.
Our two parties arrived on time, and we got as early a start as we could. Once the Edge family was in costume, I spent about an hour chasing Emily and Wiley around the building, trying to get a couple of cute shots of them together. And despite rolling for about twenty minutes, a couple of cute shots was about all I managed to get.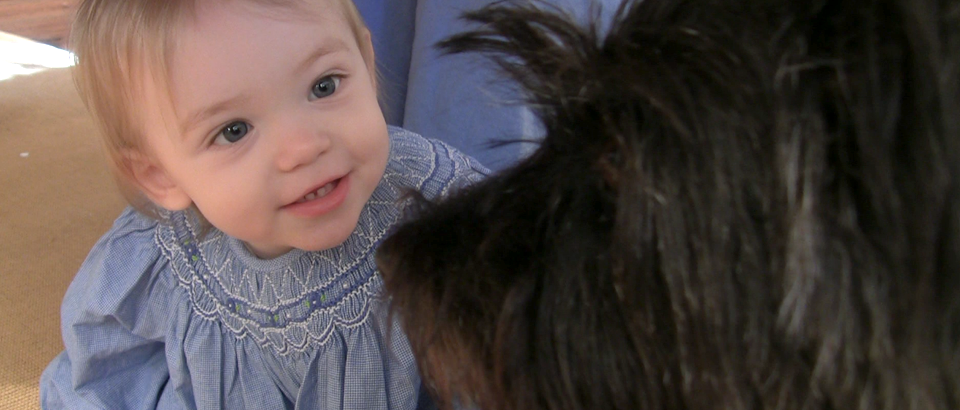 To be fair, there probably wouldn't be any cute LEFT for other shots...
We also did one quick bit with Wesley giving Wiley a treat, and multiple takes earned Wesley a friend for life. Toto wrapped, Glenda and Wiley took off, leaving the rest of us there to hammer out the heavy dialogue of the sequence. It took a little time for Wesley and Crystal to get comfortable in front of the camera. In this situation though, who could blame them? They were two inexperienced actors working on a very dialogue heavy sequence, featuring a ghost participant voiced alternatively by a creepy dude with braces and a bearded man struggling with an energetic baby.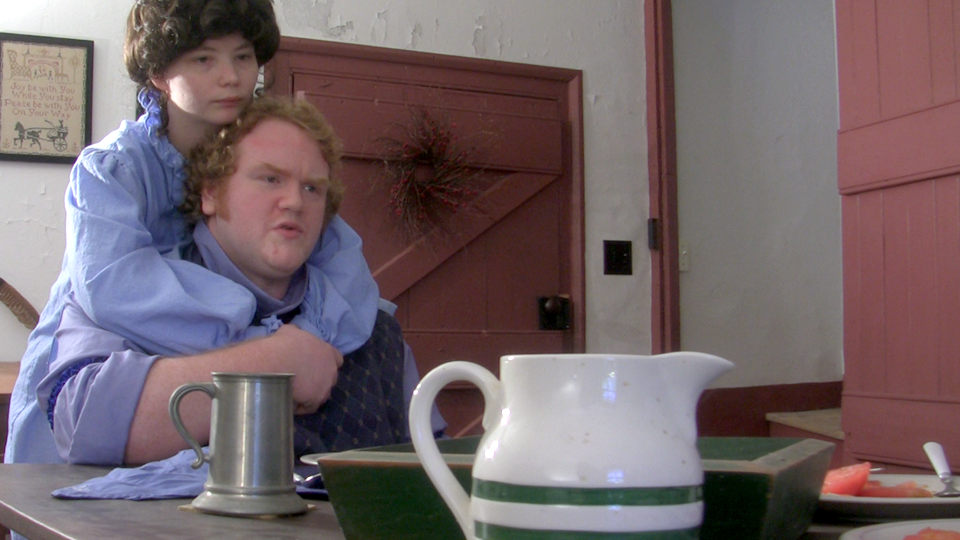 At least they had each other.
Once we all found the rhythm though, the shoot flowed pretty smoothly. While both of them did a good job, I've got to give props to Wes. This three page sequence was very nearly a wall of text, and the vast majority of it belonged to Mr. Boq. Wes handled a difficult situation with patience and humor, and for his trouble we got some very cool footage.
As far as furrows go, this man is operating on Andy Rooney levels.
We wrapped on the scene, the Edges departed, and Sean and I removed any trace of our presence. Satisfied that we had left the building exactly as we found it, we made our way back to the computers. I was eager to back-up the footage, and we were both anxious to give it all a once-over, having never shot anything for this movie that would be automatically complete. And of course, I couldn't resist the opportunity to composite Mare into one of the plates I shot today.
"When he looks the other way I am SO stealing that basket."
Sometimes I like to pretend that we know what we're doing, but it still never fails to surprise me when something actually works.